Latest News
February 19 2017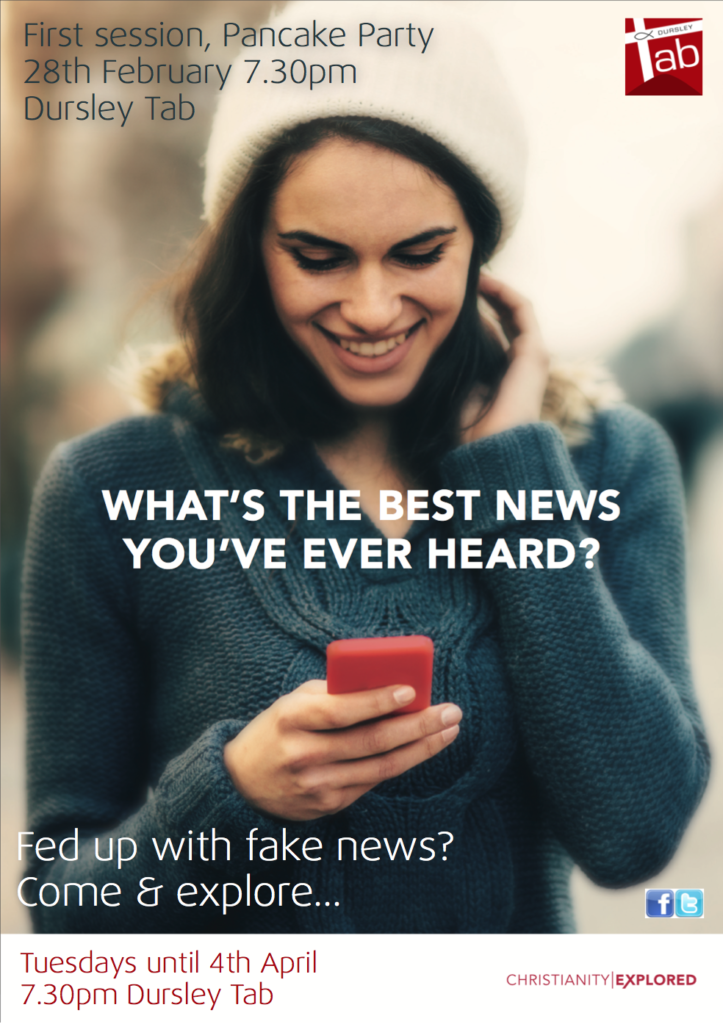 WHAT'S THE BEST NEWS YOU'VE EVER HEARD?
Was it surprising? Did it change the way you think? Or was it something you wanted to be true but didn't dare hope?
Christianity Explored is a way of sharing the best news ever heard, and gives people space and time to think about the big questions of life. Over 6 sessions in Mark's Gospel, find out more about the life of the person at the heart of the Christian faith – Jesus Christ. Come and ask any question.
Enjoy the conversation.
Explore meaning and faith that can enrich your life.
No charge. Donations welcome to expenses. Open to all.
More details Tel 542 344 or email: minister@dursleytab.org.uk
Jan 20 2017
DURSLEY CHURCHES HOST CONCERT IN RACE TO REACH £5,000 FOR VILLAGERS IN DROUGHT-HIT BURKINA FASO
Dursley and Cam churches are uniting in a race to reach a £5,000 target by the end of February with a concert showcasing local musical skills.
Churches Together in Cam, Dursley and District pledged in 2014 to raise the money in a community partnership project with Christian Aid which will be matched 5:1 by EU funds.
The £30,000 total will be spent on a project working with the poorest and most vulnerable people in 45 villages close to the Sahara Desert in the north of Burkina Faso, where drought and food shortages are common.
The churches have raised over £4,500 and are hoping that tickets, costing £5 each, for the fundraising concert at St James Church at 7pm on Saturday 28th January will secure the final funds needed.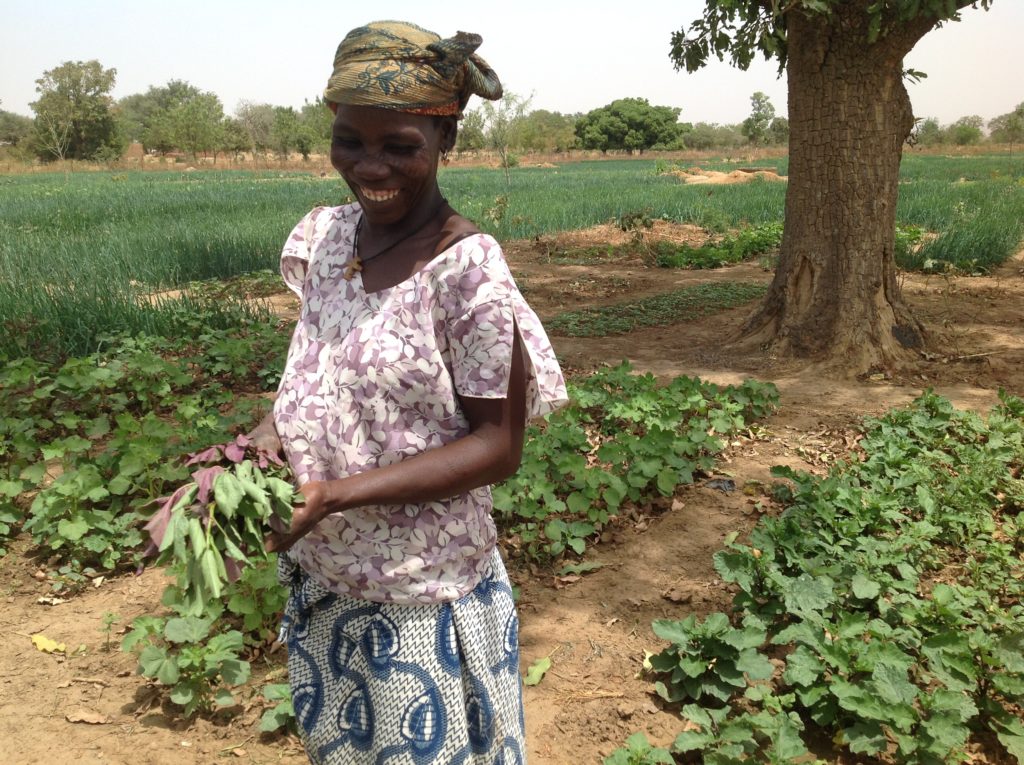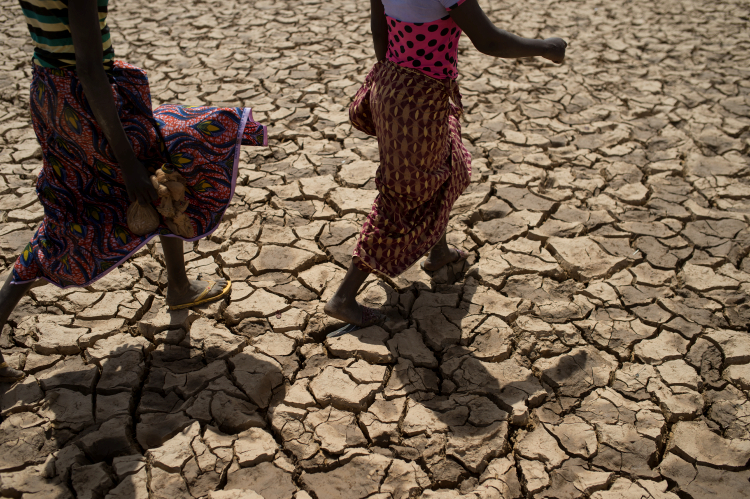 If successful, Christian Aid partner ODE will spend the funds on supporting resilient farming for villagers through improved seed and fertilisers, training in farming techniques and providing chickens for food and a source of income when harvests fail. The scheme will not only aim to increase household income but also the nutrition of babies and toddlers aged two and under.
Dursley Tab minister Simon Helme who was chair of churches together when the pledge was made, urged the local community to back the concert.
He said: "The climate in Burkina Faso is getting drier and drier and hunger has become a painful reality. The 5:1 match funding means that our contribution can bring about significant improvements in people's lives – transformation that happens when individuals, churches and communities come together.
"Cam and Dursley have responded really well so far with a range of fundraisers including other concerts, teas and soup lunches and we would urge local people to support us in this final push so together we can make a difference. Everyone is welcome, it promises to be a fun evening!"
The concert will include performances by a choir, organist, pianist, string orchestra, singers, an actress and young musicians.  Tickets are available from churches or on the door. Everyone is welcome.
Dec 6 2017
DURSLEY TAB RAISES OVER £1,000 FOR THE WORLD'S MOST DISADVANTAGED PEOPLE THIS CHRISTMAS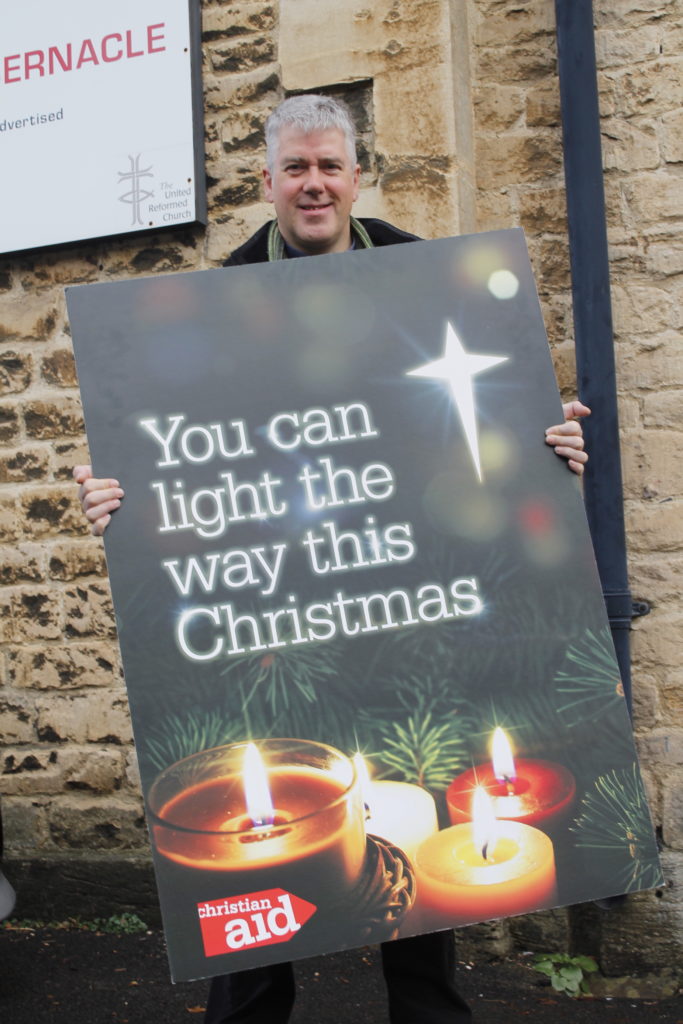 We would like to thank everyone who contributed to our Christmas collections which raised a fantastic £1,020 for Christian Aid.
The appeal focused on the world's 65million refugees and displaced people with no safe place to call home and the funds will be used to not only provide critical humanitarian aid but to also help tackle the structural causes of poverty.
Tab members and visitors to the Family Café were also given an opportunity to sign a Christmas card which was sent to PM Theresa May urging her to carefully reflect on her language and policies towards refugees, ensuring that they reflect our nation's history as a place of welcome.
Minister Simon Helme said: "We have been thrilled by the response to the appeal.
"It was important to us at Christmas, when the home becomes such a focus of celebrations, to remember those who have been forced to do the unthinkable and leave their homes and lives behind.
"Faith is political. We must see a fair and proportionate response to the refugee crisis and policies that reflect the dignity and worth of each human being.
"It is easy to feel overwhelmed, but through agencies such as Christian Aid we can all be part of the response to the situation and send out a message of hope, hope that is at the heart of the Christmas – and Christian – message."
The funds were raised at a series of Christmas services and the church was also decorated during Christmas with a series of candles coloured in by church members as a prayer prompt for those in desperate need.